HSUS Defines Responsible Breeders
Tam Cordingley, CSI Instructor, SAAB Member
It is encouraging to see HSUS is aware good dog breeders exist, however it's obvious that their advisors are not breeders based on several recommendations.
I hope the Humane Society of the US will be able to set some of the misinformation straight. My really big concerns deal with visitors. First let's be clear. Most responsible breeders are families that keep the dogs in or near their homes.
The advice from HSUS is that puppy buyers be able to walk around everywhere dogs are kept. That indicates that you, as a breeder, should open your entire home and premises to anyone who wishes to inspect how you keep your dogs. In my case this means not only the exercise yards, but also my living room and bedroom. My home is not a store. As such I expect people to respect my privacy. I am not comfortable with strangers, with their children, walking around my home and inevitably upsetting my dogs who live here.
Being a responsible dog breeder means keeping your dogs comfortable. Obviously this includes making sure dogs feel secure and are calm in their homes. Most dogs, most especially the elderly and dogs with puppies, do not like strangers invading their space.
The HSUS says a responsible breeder "encourages multiple visits" with the puppies and dam. Let's examine this a little more clearly. If an average litter has 7 puppies in it, each prospective owner is to visit 3 times, this is 21 family visits. As the puppies can't be exposed to strangers until they have had at least their first vaccination, this means 21 visits between 7 and 9 weeks. When is the breeder supposed to do their job of caring for the dogs? Each prospective family visit generally takes a minimum of one hour. This is 21 hours in a two week timeframe. Most breeders have jobs away from their homes and they still have to feed, bathe, groom, train and care for the dogs, fix meals, do laundry, spend time with their family, watch a little TV, eat and sleep. Just when are these 21 visits supposed to take place?
Nowadays, most people have internet access to pictures of the parents and the puppies, plus pedigrees, health information, and guarantees. In the overwhelming majority of cases the breeder is choosing the best puppy for the family, the family is not picking their choice of puppy. The breeder knows the dogs whereas even with 3 visits, the family won't know the pups as well as the person who cares for them every day since birth.
Care and Conditions can be assessed easily by seeing the puppies, their dam and any relatives available. The dogs should be clean, shiny, in good flesh, and have good temperaments. The breeder should know the breed, be able to discuss possible health risks, give clear instructions on the care of the dog, etc.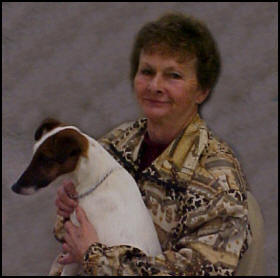 Another issue is the oft mentioned USDA regulations which it appears HSUS would like to see applied to all breeders. Most people haven't read those regulations but they are written for puppy mills and laboratory animals. God forbid that our dogs are treated like that! No contact with the dirt, all metal fences and beds, no cloth or soft bedding, and all dogs to be 500 feet away from the house! This is not compatible with the way loving Responsible Breeders keep their dogs.
Let's hope this new HSUS Breeder's Advisory Group can bring the Humane Society together with reality and with real breeders.
As hobby or show breeders we want the best conditions for our dogs. It is not immoral to breed dogs. Let's remove the stigma of the evil greedy breeder, applied by the "animal rights" groups, from the consciousness of America.
TheDogPlace.org EST 1998 © 1203 https://www.thedogplace.org/Family-Dog/HSUS-Responsible-Breeders_Cordingley-123.asp