A FENCE FOR THE DOG!
A Loose Dog Could Be A Dead Dog
Tam Cordingley, CSI Instructor, SAAB Member
A responsible owner keeps his or her dog safe. In the overwhelming majority of cases this means a fence.
"Sooner or later any dog will wander or the UPS truck, a workman, or even a family member will drive onto your property and if your dog isn't securely fenced it may well get run over or bite someone."
The worn out excuses of "I live on a dead end road" and "my dog never leaves the yard" don't work. In over 50 years as a dog breeder and fancier I've heard every excuse in the book about why the buyer of a dog doesn't need a fence. None of them work for me. In fact this is one of my litmus tests for a responsible owner or breeder.
In many areas, tall fences are the norm in subdivisions but if you run into planning restrictions, can't afford a fence, or if you are renting, there are options and alternative fencing methods.
The electronic underground fences work fine to keep your dog in; the catch is that they don't work at all to keep other dogs out. This makes electronic fencing (many call it "electric fence" which is actually an above ground hot wire) unacceptable for all but the most rural homes. If your dog is small, a neighborhood dog can, and most likely will, come into your yard and it may attack your dog. If your dog is large he or she may well get into a fight and hurt a neighbor's dog that crosses the electric fence. And obviously, electric fencing does not protect your intact female when she is in season. Little Phoebe could become pregnant by the big dog next door!
A secure wood or wire fence is best. If split rail is your aesthetic choice it must be backed by wire. 2x4 welded wire is best for small dogs, 2x4 or even field fence works well for big dogs. A large dog requires a 4 to 6 foot high fence, a tiny can be kept in by a 3 foot fence. Don't use large grid fencing for little dogs; they can go right thru the openings.
If you are a renter there are fencing options that won't cost you an arm and a leg. For a puppy or a small dog, a folding exercise pen, such as those used by dog show people, is a good option. Two or more can be put together to make a larger pen. This can be a safe place for a toy or small terrier, maybe even a spaniel if it is also leash walked for exercise. Exercise pens can be ordered online or at a local pet shop.
With a large dog a suitable pen can be made from welded rod livestock panels. They are rigid fencing that will stand without too many posts, can be erected in minutes, and are easy to move. They are available at most feed stores such as Farm and Fleet or Tractor Supply.
Even a tie out can work for SHORT periods. Right outside the door you can attach a chew proof cable and pop the dog out to potty. The caveats with this method are that it is only for a very short term convenience. The dog isn't to be tied out for hours. A potty break inside a fence or exercise pen is okay but then do leash walking for exercise and recreation.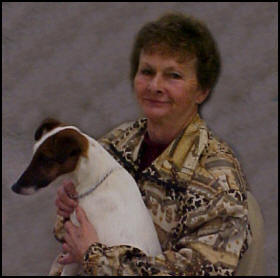 I do not recommend dog parks. The idea of all the dogs playing with their friends sounds lovely, in reality it is not a great thing. Dogs, even little ones, are animals. They will fight, they are possessive, and they play rough. A small dog may be accidentally injured by a large dog. Your dog is just that, YOUR DOG. He doesn't need to be friends with the entire neighborhood. His exercise and recreation should be with you. Leash walking is good for your dog and probably even better for you!
Enjoy your dog responsibly.
Copyright ? NetPlaces Network 1204 https://www.thedogplace.org/Family-Dog/Fence-Loose-Dog_Cordingley-124.asp
SSI
Brought to you by the NetPlaces Network
Your $20 Membership supports the world's first public website (1998) and free information provided by our international Science and Advisory Board. Please join our educational project for all dog owners.
SSI
ii NetPlacesNetwork ~ ii Health Disclaimer
The world's 1st public website TheDogPlace.org from Animal Health to Vaccines.
The world's 1st online dog news, TheDogPress.com from AKC records to zoological news.
The world's 1st site by/for dog show judges TheJudgesPlace.com educates on purebred dogs.