Choosing The Right Breed
Tam Cordingley, CSI Instructor, SAAB Member
The first step in choosing a family dog is to honestly assess your lifestyle. Are you quiet or active? Do you have time for grooming? Do you mind dogs that shed? Small dog or big dog? Do you like the feel of long silky hair or a hard terrier coat?
Next decide what your idea of a companion is. Do you want a dog on your lap, in the car, and in your bed? If so, size is a consideration so choose a smaller breed. Are you physically strong? Are you mentally mild or aggressive? Is this to be your personal dog or a puppy for the whole family? Do you have a lot of company? Get a naturally well mannered breed and train the dog or your visitors may not come as often. Do you have children? Choose a breed that is good with kids. Are you on a limited budget? Spending a little more now selecting a healthy breed will pay off in the long run.
Do your breed research from an objective source because breeders all think their own breed is best. The public library or dog breed information sites such as this one provide good information on all the purebreds and unlike the breeder in your community, such reference sources aren't trying to sell you a puppy.
Go through the breeds by "group" starting with the one that best describes the kind of dog you are looking for. Then, looking at photos, make a list of those that appeal to you esthetically.
From that list go back through and rule out those of unsuitable size. You can know that because each breed has a standard that will specify adult size. Adopting a dog is great if you don't care about things like adult size, coat type, and behavioral traits. If you are a planner, best to choose a purebred dog for its predictable qualities.
Now your list of choices is shorter. Go back to the list again and sort by coat type and preference. Poodles are wonderful dogs but they do require professional grooming to look their glamorous best. Terriers require coat stripping or clipping to look like the dogs in the photos. Those exquisite Maltese, Shih Tzus, and Yorkies require daily combing to keep that beautiful silky coat from becoming a tangled mess. Chows, Malamutes, Akitas, Siberian Huskies; they need deep combing and lots of it in the spring or that massive coat will be all over your house. Okay, now you are being practical so back to the list again, hopefully it is even shorter by this time.
Lets now sort by original purpose of the breed. Dogs tend to be what the breed was bred to do, this does not mean there are not exceptions, but simply that most malamutes will pull, most terriers will kill rats, most retrievers will carry things in their mouths. This may affect your breed choice.
The selection process for me was as follows. I am slightly past middle age, sort of smallish, and don't like to roughhouse. It has been my experience that dark dogs, like Border terriers, become invisible in the dark while white dogs are visible. Therefore they won't get stepped on.
I like short-haired or wire haired dogs, no Poms, Shelties, or Collies. The size I prefer is medium small. I prefer normal length legs so that lets out Basset Hounds, Dachshunds, or Corgis. Now I'm looking at Beagles, Basenjis, Wire and Smooth Fox terriers, Bostons, Pugs, MinPins, Border terriers. I live in a hot climate and don't like air conditioning, so a smashed face dog wouldn't be the best choice. Cross off Bostons and Pugs.
It would be better if the dog was either white or had white markings, off my list go Borders and Miniature Pinschers. Now we are down to Wire or Smooth Fox Terriers, Basenjis, and Beagles. I live on a farm and like the dog to be able to go with me off lead. I'm not talking about heeling off lead, just keeping me company as I walk the land and take care of stock. So I'm crossing off Beagles and Basenjis which are apt to go off hunting on their own and for me, not a good choice.
So logically and thankfully, I'm now back to my original loves, Wires and Smooths. Wires get things caught in their furnishings and that coat needs plucking, stripping, or clipping to maintain that spiffy look that characterizes the Wire Fox Terrier so the final choice is a Smooth Fox Terrier.
This choice made, I now have two lovely easy-to-groom, people-oriented, devoted personal dogs that can go with me in my business travels. They are big enough to not be fragile but small enough to snuggle in my lap. They accompany me on my rounds of the farm and occasionally they do what terriers were bred to do, they dispatch vermin in the barn.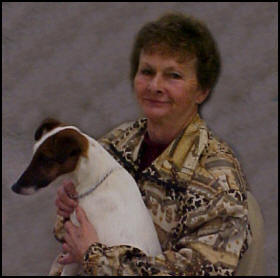 My Smooth Fox Terriers are house dogs who accept and befriend the old dogs who also share the house, and I am well pleased with the choice. I hope this helps you narrow your breed choices down and that you are equally as pleased with your new dog.
They have provided links below that will help you develop your new dog into the very best Personal Dog possible. You will spend some thoughtful time selecting the right breed. The time spent training and molding that dog to be your friend for life will be enjoyable as you bond and become a team. Time well spent.
TheDogPlace.org EST 1998 © 0011571604 https://www.thedogplace.org/Family-Dog/Choosing-TheRight-Breed_THC-001.asp
SSI
Brought to you by the NetPlaces Network
Your $20 Membership supports the world's first public website (1998) and free information provided by our international Science and Advisory Board. Please join our educational project for all dog owners.
| | | |
| --- | --- | --- |
| Big or small dog, watchdog, lapdog, short or long coat? | Bring money to the table cause' unpredictable problems will cost you. | A canine best friend is an important life decision. |
SSI
ii NetPlacesNetwork ~ ii Health Disclaimer
The world's 1st public website TheDogPlace.org from Animal Health to Vaccines.
The world's 1st online dog news, TheDogPress.com from AKC records to zoological news.
The world's 1st site by/for dog show judges TheJudgesPlace.com educates on purebred dogs.