AMERICAN DOG SHOW ASSOCIATION
Tam Cordingley, CSI Instructor, SAAB Member
Tired of the politics of dog shows? Miss Fun Matches? Why not start your own show club and offer OPEN SHOWS and FUN SHOWS, one for points, one for, well, fun.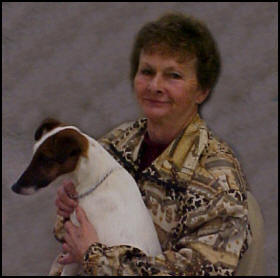 In horse shows there are what is called OPEN SHOWS. These are shows where some of the people are competing for breed association points, some for game association points, and some are showing recreationally. These shows can be put on by an individual, a club such as the Shriners, a business, or anyone else. They find and pay for the venue, do mailings, hire judges, provide awards. The American Horse Show Association provides the rules. Most of the offering sheets list which judges, if any, are accredited by which associations.
In England they have a similar show scheme, somewhat like our matches. I propose a similar scheme here. AKC will probably not be willing to give up any of the power so I would not expect them to go along with our idea, but I do expect UKC, NCA, AMBOR, ASCA, to be willing to participate. The name of this system would be OPEN SHOWS held under American Dog Show Association rules.
The advantages are many. The producers can choose to hire judges licensed by UKC, NCA, and/or AKC. If the registries agree, and they will, these judges can award certified wins to be submitted to the appropriate registry for inclusion in its point totals. A dog could conceivably earn points toward both their NCA and UKC Championships at the same show or even on the same day. Both UKC and NCA shows are few and far-flung, but the American Dog Show Assoc. would solve those problems. Any individual or organization can put on a dog show, this eliminates the need for enough people for a club, something that is a problem in many rural areas.
The mechanics are fairly simple. A similar system is used by many of the rare breeds. An exhibitor who wants to earn points carries a card or certificate for the judge to sign after awarding the win. It is submitted to the registry awarding the title or degree with a fee for recording. In order to be able to award points, the judge must be licensed by that registry; UKC judge = UKC points, NCA judge = NCA points, etc.
The real beauty of this, for a real dog enthusiast, is removing the politics. The clubs currently hire the friend of Mrs. Blabla to judge because just coincidentally, she is the best friend of the show chairman of Podunk KC, who is hiring for a show which this club officer wants to judge. Once the system is opened the politics goes away. There will be more shows and more opportunity for the recreational exhibitor to show their dog. Many people won't choose to work toward a Championship title and will only show to enjoy the fun. It is a great social outlet, a "dog party" open to all. Those who want to be more serious can attend Open and UKC, AKC, or NCA shows, whereas those who just want to have fun can do so in an informal atmosphere.
Let me hear your thoughts. Contact us, send your comments to Design@TheDogPlace.org
https://www.thedogplace.org/ShowPlace/Am-Dog-Show_Cordingley-02.asp
Copyright © NetPlaces, Inc./ TheDogPlace.org - All Rights Reserved
Explore TheDogPlace.org for authoritative DogCare™ information.
If you breed or show dogs, get your free subscription to TheDogPress.com
Judges, professional and owners handlers, to be sure to visit TheJudgesPlace.com