SO.. YOU THINK YOU WANT TO SHOW YOUR DOG?
Tam Cordingley, CSI Instructor, SAAB Member
Maybe you've read Albert Payson Terhune and showing dogs sounds like a worthwhile endeavor. Maybe everyone says how pretty your dog is and you'd like to show him off. Maybe you thing your dog is good enough to stand at stud, and maybe make some money, and someone has said you need to show him before anyone will use him.
All of these are reasons someone is interested in showing dogs, plus many others. How do you begin?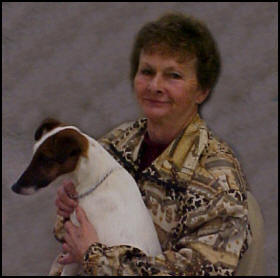 First you attend some dog shows and find out how they are run. There are pamphlets at the superintendent's table on the rules, regulations, and explaining the competition. Spend some time and look around at the different breeds, the grooming and handling techniques, etc. Talk to some exhibitors, but only after judging. They are frequently nervous and/or rushed before going in the ring and may appear rude. In fact, they are usually preoccupied.
Be sure to watch the judging of your chosen breed, mentally compare your dog with those being shown. Decide, with your family, the level of competition you are interested in. To begin with decide on whether you are interested in conformation or obedience. If conformation is your field do you want to show a few times just for fun, complete a Championship, or just try for Group and/or Best in Show wins. If Obedience is your bag, do you want a dog that will earn a CD, complete a CDX and/or UD, or go for an OTCH (Obedience Trial Championship.) The levels of competition vary drastically in the time, money, and emotion required to participate.
If your field is conformation, the initial step is having your dog evaluated or finding a puppy if you don't already have a dog. Either a dog consultant or a professional handler is the one to appraise your dog. If the breeder of your dog has finished a number of Champions they are probably qualified to appraise the quality of your dog. If the breeder has never shown a dog or finished a Champion they are probably not qualified to pass on the worthiness of your exhibit. The breeder of a dog is simply the owner of the dam of the puppies. Many are excellent and very well qualified, many are simply producers of puppies who know very little about the conformation of the puppies they produce.
If your interest is Obedience, your appraisal has to be two fold. Both your energy, talent, and interest as well as the conformation, talent and energy of your dog need to be taken into account. Most dogs can get a CD, many can get a CDX and/or UD. Relatively few can qualify for the highest honors in the field and earn an OTCH. The physical and mental talents of both of you need to be considered. A consultant who has experience in Obedience or a trainer who has competed at the highest levels can give you needed insight.
It is much easier and immeasurably cheaper to have your assets appraised than it is to spend time and money working with a non-competitive dog. If your dog is deemed non-competitive, get a second opinion. If the second opinion matches the first, just love and enjoy your dog, and if you still wish to compete, get another dog. Take a counselor along if you need help choosing a second dog. The money will be well spent. With show expenses as high as they are today, the cost of a counselor/consultant is well worth it. Make sure you are, indeed, competitive.
Most important of all-love the dogs you have, win or lose. That ribbon or placement is important to you, your dog is working hard for only the reward of your affection. The dog you take home is the same prospective winner you brought to the show, he is as good as he was before the judge placed him.
Win or lose.
https://www.thedogplace.org/ShowPlace/Want-To-Show_TC-012.asp
Copyright ? NetPlaces, Inc./ TheDogPlace.org - All Rights Reserved
Explore TheDogPlace.org for authoritative DogCare™ information.
If you breed or show dogs, get your free subscription to TheDogPress.com
Judges, professional and owners handlers, to be sure to visit TheJudgesPlace.com