I Was Thinking...
Tam Cordingley, CSI Instructor, SAAB Member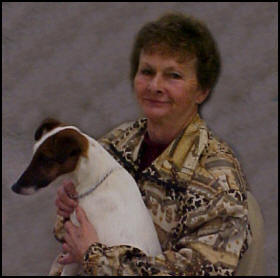 Most of my close friends will cringe at that phrase. On the way home from an obedience trial I suddenly realized that I was happy. Judging had run long, it was late, I was tired, the weather was hot, but I was happy and relaxed. There have been lots of dog show trips in my 50+ years of dog shows when I have not been happy on the drive home. Win or lose, dog shows are not always happy. The wrong dog won, the grounds were not good, we had 8 AM judging and groups at 4, and a variety of other gripes.
This was a different experience. It was a rally trial. That in itself is fun. All the participants are happy entering the ring, everyone has a smile on their face. The dogs vary in breed and performance but all the spectators and participants are rooting for every one. Applause is common.
It also was not rushed. Obedience takes time. When one is showing in obedience we all know that so we can relax, we are not going anywhere. It is an extremely pleasant time out not to worry about the cell phone, I turn mine off, no computer. Time to relax, enjoy the dogs, root for your friends, and talk to other competitors.
In our hustle and bustle world of dog shows today we seldom take the time to enjoy what we are doing. Rush to get the dogs there, chalked, judged, bitch awhile about the judging, then either rush to get home to the phone and computer messages or to re-chalk and get ready for the group. Then rush either out to the motor home to get ready for the next day, or really rush to get out the gate first.
Maybe that is the main joy about the obedience ring. We are not rushing. Most exhibitors stay at least until the end of their class, many for the end of the trial. The dogs are quiet and well behaved, most crated near their owner's chairs. If there are children they are usually also quiet and well behaved or are asked to leave.
One of my dearest friends, and she will recognize herself, fusses because it takes so long. So what? Why can't we treat ourselves to a time of no hurry? I'm relatively certain that the sky will not fall if someone has to wait until after I take a day off to get a return phone call or email. My dogs enjoy a time with me. I enjoy interacting with my dogs and watching the interaction with other people's dogs. My business and personal life will both be better for the little time it takes to truly relax. In fact my first rally experience was so much fun that I am continuing on with that dog and have just started another.
https://www.thedogplace.org/ShowPlace/Think-Rally-Obedience_Cordingley-069.asp
Copyright © NetPlaces, Inc./ TheDogPlace.org - All Rights Reserved
Explore TheDogPlace.org for authoritative DogCare™ information.
If you breed or show dogs, get your free subscription to TheDogPress.com
Judges, professional and owners handlers, to be sure to visit TheJudgesPlace.com